SHEET TRANSLATION DETECTOR
*Accessory to the IS416 Sheet Skew Detector
DETECTS TRANSLATED SHEETS OR SHEETS THAT MOVED SIDEWAYS TO AVOID LEADING CAUSE OF DOWNTIME
THE ENHANCED IS430 MK II SHEET TRANSLATION DETECTOR
✅ BETTER CONNECTOR PROTECTION
✅ LESS MAINTENANCE
✅ SAVE MONEY
✅ SAVE TIME
Skew, tilt or slight rotation of sheets as they go through the coater is not the only problem that can occur with sheet alignment and coating placement. Some sheets may also miss the side guide when entering the rollers and so they drift sideways or 'translate'.
This will cause poor coating placement which can then lead to weld wire breakage, damage to weld rollers or poor-quality welds. With Innosen's IS430 MK II Sheet Translation Detector, an add-on to the IS416 Sheet Skew Detector, these problems can be avoided.
The IS430 MK II is a Sheet Translation Detector for coating and lacquering lines. It is used at the outfeed of a machine and ensures that the sheet does not translate out of tolerance. This ensures that when the sheet is cut, the margins sit in the correct place. Misplaced margins will no longer cause the welder to stop operation.
The IS430 MK II is an upgraded version of IS430 with improved cables and connectors. These improvements allow better connector protection against lacquer splashes and mist, saving time and money for maintenance. The IS430 MK II is an add-on option to the IS416 Sheet Skew Detector and consists of a single IS430 MK II Measurement Head.
✅ No weld wire breakage
✅ No problems down the line
✅ No downtime
✅ No customer complaints
✅ Less maintenance
Allows you to set your acceptable range of sideways movement in the system
Gives instant feedback if the sheet has translated beyond acceptable limits
Provides a 'heartbeat' signal to your line control to assure that your system is fully operational
Helps you determine the capability of your production process by providing statistical data, such as standard deviation and average
| Specifications | |
| --- | --- |
| System Components: | U-shaped measurement head |
| Dimension: | 40mm (w) x 100mm (l) x 230mm (h) or 1.6" (w) x 4" (l) x 9" (h) |
| Measurement Range: | ± 8mm (±0.32") |
| Translation Accuracy: | ± 0.2mm (±0.8") |
| Operation Speed: | Up to 150m/minute (500 feet/minute) |
| Calibration: | Automatic |
| Installation: | Mounted on each side of the discharge conveyor; on the fixed outer margin side |
| Environmental protection rating: | IP54 |
Protects against poorly placed coating by detecting skewed (rotated) sheets at the coater.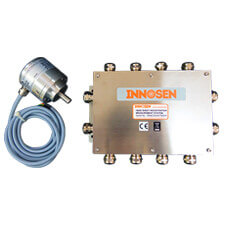 Adds protection against poor sheet registration by warning of sheet misfeeds at the coater.
Spain
Romà Piera i Arcal, 8
08330 Premià de Mar (Barcelona)
Spain
Main Multilanguage Tel:
+34 937 549 526
Alternative Direct Tel:
English: +44 1905 887845
Email: [email protected]
Hong Kong
11th Floor Dah Sing Life Building
99 Des Voeux Road Central
Hong Kong
Tel: +852 2127 0699
Philippines
808 Citystate Centre Building
709 Shaw Boulevard
1600 Pasig City
Philippines
Tel: +63 2 8696 6965 /
+63 2 8696 6978
USA
7691 N.Overland Trail
80524 Fort Collins
Colorado
USA
Tel: +1 970 305 8721
© 2021 Innosen. All rights reserved.